Local Directory Submission

MTR's Local Directory Submission program is part of all of our Local SEO Packages and is also available as an individual managed service for $99 per month or $1000 per year. This is a managed program with local tracking, fast updates of all your listings if your information changes. List sales, specials, announcements and more weekly, monthly, quarterly and we will make the change for you across all your listing on our network.
Appear in the most possible local searches with guaranteed presence
MTR PowerListings makes sure your listings are present with the correct information. add missing listings, and we update critical fields like name, address, phone number, and categories across our network. Change your information anytime and we will update it everywhere.
MTR Local PowerListings solves the local information problem.
Are Your Listings Out-of-Sync?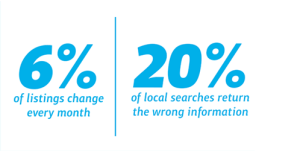 In fact, 6% of business listings change every month. This happens as businesses open, close, move, offer new specials, launch new products, hire new employees, change their hours, and more. So information falls out of sync everywhere pretty quickly. The end result is very frustrating for end users, who get the wrong information returned in a local search 20% of the time. And that's the problem with local search today.
Stand out and look great with MTR enhanced local listings
MTR adds photos, descriptions, promotions, to your listings on each site on our network. Let your customers know about specials, new products, important announcements, changing hours, and more. Just contact us to update your information whenever you have a change and watch updates occur across the network at blazing fast speeds.
MTR will Track your local search performance with full analytics
We track your impressions and profile views at the local level with full analytics on your local search performance. See which specials you run drive you more traffic, and watch if you get a lift from filling out your listings with rich content. Monthly reports provided.

Get Started now!
Call 904-733-1447 to Sign Up NOW!