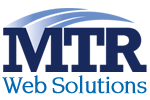 Millennium Technology Resources (MTR2000) is a service oriented Internet business solutions provider. Our client focused high quality standards are delivered in surprisingly affordable website packages and include many custom pricing options.
Our primary purpose is to help businesses and individuals take full advantage of the Internet and meet their goals. Our clients are our number one priority and we enjoy sharing with them the benefits of success.
The world is traveling the web and the commerce potential is unlimited. Companies must focus on the fundamental changes in marketing strategies that will determine if they become tomorrow's industry leaders or yesterday's news. We have highly skilled marketing professionals and website designers, who seek to master the technology of cyberspace by creating effective websites. We offer complete e-commerce capabilities and have been successful in turning browsers into buyers. We encourage productivity through simplicity. Keep it simple, professional, to the point and achieve your objectives with easy to follow text, graphics and effects. Your target audience will see your message or product instead of marveling at special effects and missing the point.
Through the quality and reliability of our services, our innovation, our responsiveness, customer support and overall commitment to excellence; we are confident we can exceed all of your expectations!
Millennium Technology Resources
52 Tuscan Way, Suite 202-127
Saint Augustine, FL 32092
Phone 904-733-1447
Email: support@mtr2000.com